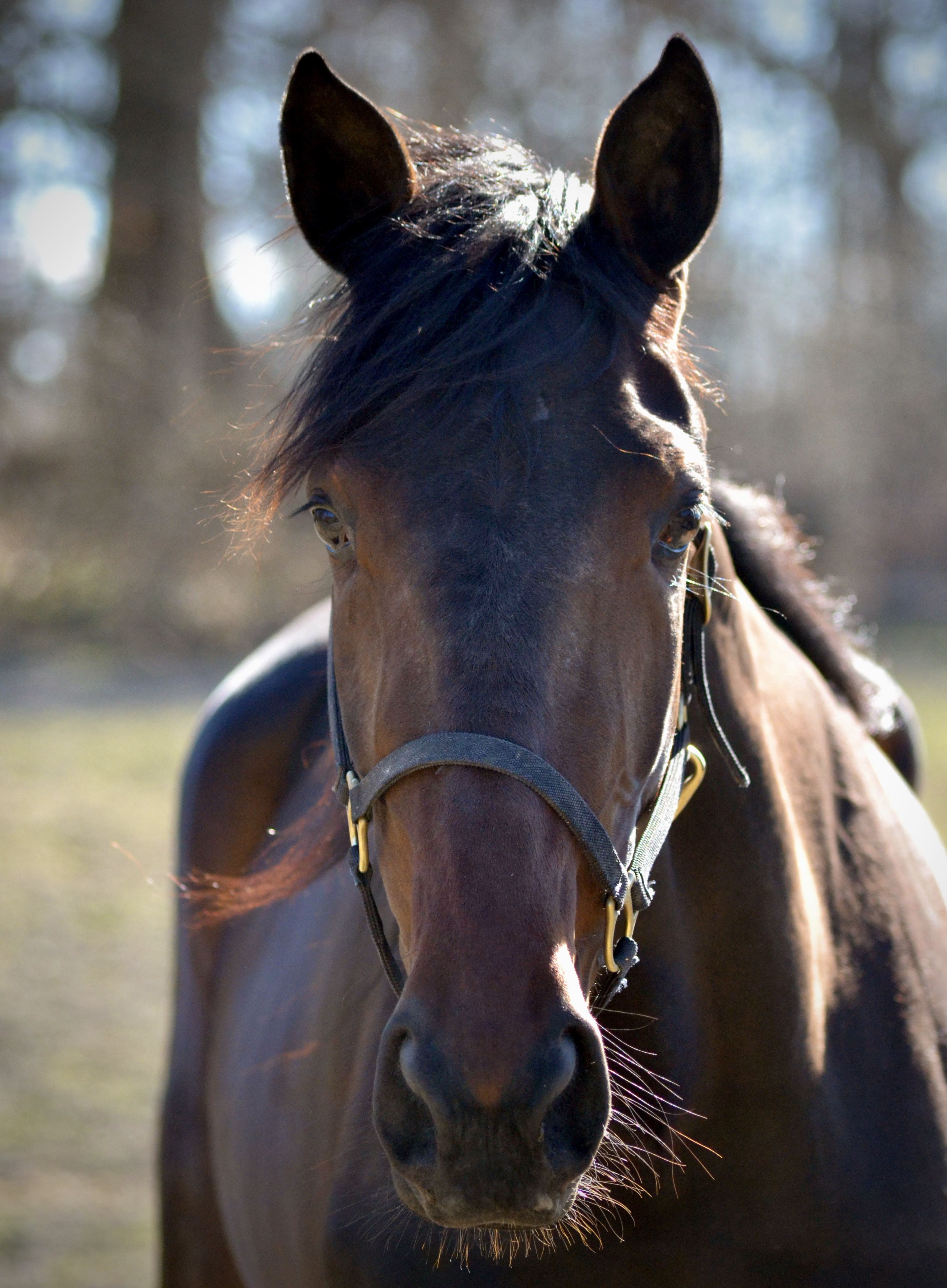 Evelyn
Facts
Record
*17,2m 11,6ak 12,8am
Biography
The Muscle Hill daughter Evelyn is our own breeding and she started out her racing career by winning her first two races. As a three year old she also finished second in the Swedish stakes Margaretas Tidiga Unghästserie and Sommarfavoriten. At four she finished fourth in the Breeders Crown-semifinal from post eight and was qualified for the final. In the final she sustained a suspensory ligament injury and after that we decided to bring her into the breeding shed. Her first partner will be our own Perfect Spirit.
Her dam Royalty Forever has her first production in Evelyn and she is a fullsister to Hambletonian-champion Royalty for Life $1,628,649. He also won the Canadian Trotting Classic, Stanley Dancer Memorial and Zweig Memorial. Han was the Dan Patch Three Year Old Colt Trotter of the Year in 2013. He stands stud in Canada and finished third in the stallion ranks over combined earnings of 2- and 3 year old trotters.
Third dam Texas Winner won the Keystone Classic Series and PA All Star div. and earned $128,323. She has also produced; Texas Photo $461,464, Text Winner $202,725 och Texas Ridge $161,747.
Pedigree
Muscle Hill
Muscles Yankee
Valley Victory
Maiden Yankee
Yankee Blondie
American Winner
Yankee Bambi
Royalty Forever
RC Royalty
Credit Winner
Stockholm Image
Bourbon'N Grits
Donerail
Texas Winner
| Year | Starts | Results | Earnings |
| --- | --- | --- | --- |
| Life | 14 | 3-5-0 | 472,000 |
| 2020 | 0 | 0-0-0 | 0 |
| 2019 | 5 | 1-2-0 | 107,000 |
| 2018 | 9 | 2-3-0 | 365,000 |
| Track | Date-Race | Race type | Dist | Res. | Time | Driver | Trainer | Earnings |
| --- | --- | --- | --- | --- | --- | --- | --- | --- |
| E | 191110-11 | | 2140 | 0 | 15,4a | Jansson Torbjörn | Walmann Roger | 500 |
| S | 191027-3 | | 2140 | 4 | 13,8a | Kihlström Örjan | Walmann Roger | 26,500 |
| S | 191016-2 | | 1640 | 1 | 13,1a | Kihlström Örjan | Walmann Roger | 40,000 |
| S | 190929-5 | | 1640 | 2 | 12,0a | Kihlström Örjan | Walmann Roger | 20,000 |
| S | 190904-7 | | 1640 | 2 | 11,6a | Kihlström Örjan | Walmann Roger | 20,000 |
| S | 181028-3 | | 2140 | 6 | 13,9a | Haugstad Kenneth | Walmann Roger | 10,000 |
| Ax | 181016-5 | | 2140 | 0 | 12,8a | Kihlström Örjan | Walmann Roger | 500 |
| S | 180918-1 | | 2140 | d | uag | Kihlström Örjan | Walmann Roger | 500 |
| S | 180814-7 | R | 1640 | 4 | 12,6a | Kihlström Örjan | Walmann Roger | 19,000 |
| S | 180724-4 | | 2140 | 2 | 13,1a | Kihlström Örjan | Walmann Roger | 50,000 |
| S | 180703-7 | | 2140 | 2 | 13,5a | Kihlström Örjan | Walmann Roger | 150,000 |
| S | 180619-3 | | 2140 | 2 | 15,3a | Kihlström Örjan | Walmann Roger | 35,000 |
| E | 180529-7 | | 2140 | 1 | 15,6a | Kihlström Örjan | Walmann Roger | 60,000 |
| S | 180515-2 | | 2140 | 1 | 17,2 | Kihlström Örjan | Walmann Roger | 40,000 |
| S | 180502-13 | K | 2140 | gdk | 17,6 | Haugstad Kenneth | Walmann Roger | 0 |