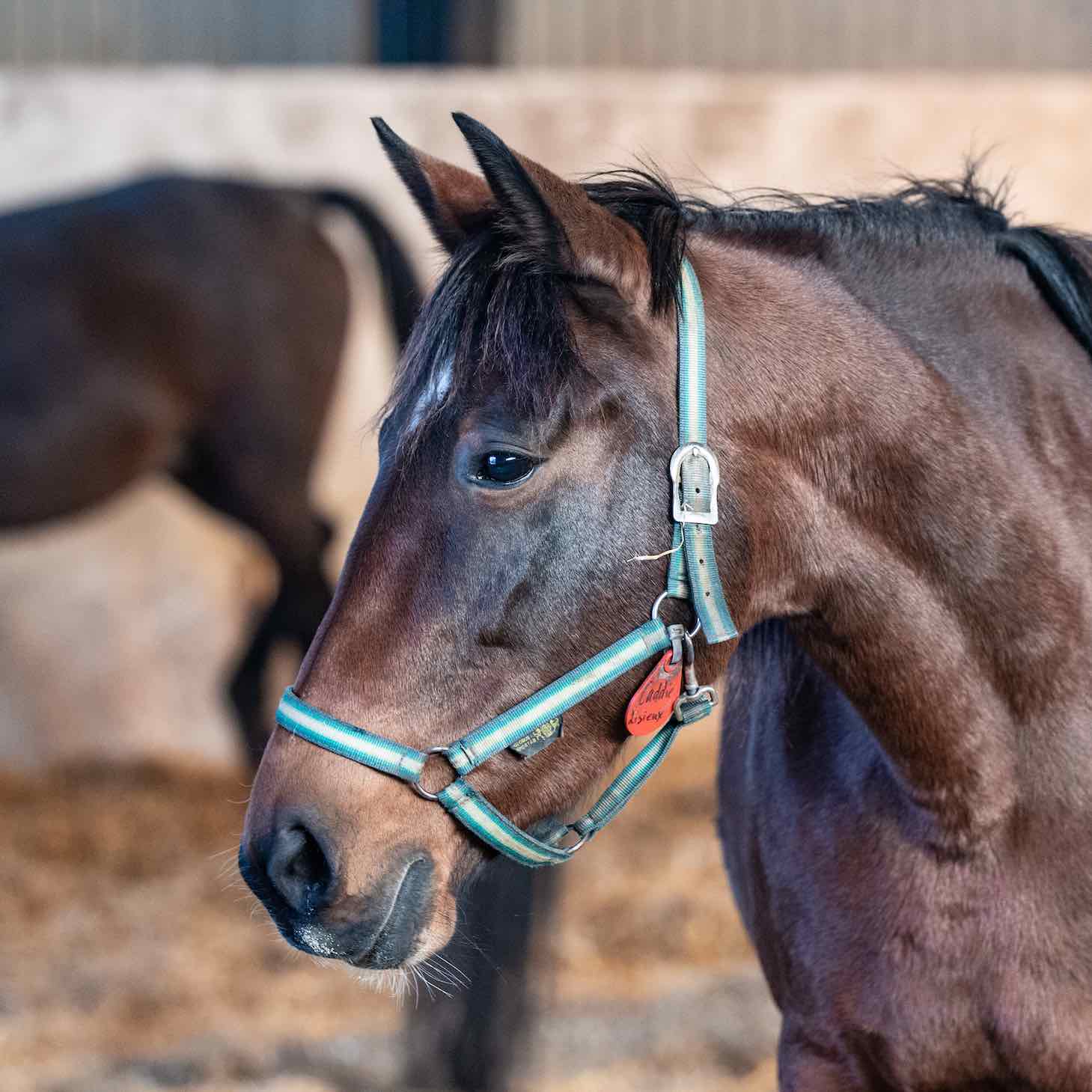 Caddie Lisieux
In foal to Gimpanzee due 2nd of June 2023
Facts
Record
*17,9m *10,6ak 12,2am
Biography
Caddie Lisieux made 3,7 MSEK during her racing career with the result; 29 starts 11-8-1. Her major victories was Margaretas Tidiga Unghästserie and Stosprintern at Halmstad racetrack, when trotting a storm from the back of the field to score in a new track record of 1.10,6ak. She finished second in both Breeders Crown finals as a three- and four year old.
Caddie Lisieux is a fullsister to one of Sweden´s greatest trotters ever, the Prix d´Amerique winner Readly Express with earnings over 21 MSEK. He was completely outstanding winning Prix de France in 2019 winning by open lengths.
The maternal line is one of the best you can find. Champion stallion Viking Kronos is the broodmare sire and fourth dam Matina Hanover is the dam of the great Mack Lobell 22,5 MSEK. Second dam Fatima Lavec is a sister to the Peter Haughton and World Trotting Derby champion Enjoy Lavec 7,5 MSEK.
Other oustanding horses from this family are, American Winner $1,3 M, Super Pleasure $827,000, Victory My Way $500,000 with many many more.
Pedigree
ready cash
indy de vive
viking's way
tekiflore
kidea
extreme dream
doceanide du lilas
caddie dream
viking kronos
american winner
conch
fatima lavec
sugarcane hanover
margit lobell
| Year | Starts | Results | Earnings |
| --- | --- | --- | --- |
| Life | 29 | 11-8-1 | 3,705,600 |
| 2023 | 0 | 0-0-0 | 0 |
| 2018 | 2 | 0-0-1 | 25,500 |
| 2017 | 12 | 3-5-0 | 2,055,100 |
| 2016 | 15 | 8-3-0 | 1,625,000 |
| Track | Date-Race | Race type | Dist | Res. | Time | Driver | Trainer | Earnings |
| --- | --- | --- | --- | --- | --- | --- | --- | --- |
| Å | 180428-9 | R | 2140 | d | 11ag | Haugstad Kenneth | Walmann Roger | 500 |
| F | 180330-7 | R | 2140 | 3 | 14,3a | Haugstad Kenneth | Walmann Roger | 25,000 |
| E | 171112-6 | R | 2140 | 2 | 15,4a | Haugstad Kenneth | Walmann Roger | 800,000 |
| S | 171029-6 | R | 2140 | 1 | 13,1a | Haugstad Kenneth | Walmann Roger | 100,000 |
| S | 171011-10 | | 2140 | d | 10ag | Haugstad Kenneth | Walmann Roger | 0 |
| J | 170903-7 | R | 2140 | 0 | 12,2a | Haugstad Kenneth | Walmann Roger | 0 |
| J | 170823-3 | | 2140 | 2 | 13,6a | Haugstad Kenneth | Walmann Roger | 50,000 |
| Mp | 170731-4 | | 2140 | 2 | 12,8a | Haugstad Kenneth | Walmann Roger | 35,000 |
| Hd | 170708-7 | R | 1609 | 1 | 10,6a | Haugstad Kenneth | Walmann Roger | 677,600 |
| Hd | 170626-4 | | 1609 | 2 | 11,7a | Haugstad Kenneth | Walmann Roger | 37,500 |
| Å | 170513-5 | R | 2140 | 0 | 14,0a | Haugstad Kenneth | Walmann Roger | 0 |
| Å | 170428-11 | | 2140 | 2 | 13,6a | Haugstad Kenneth | Walmann Roger | 40,000 |
| S | 170401-2 | | 2140 | 6 | 14,3a | Haugstad Kenneth | Walmann Roger | 15,000 |
| S | 170315-8 | | 2140 | 1 | 13,6a | Haugstad Kenneth | Walmann Roger | 300,000 |
| E | 161106-6 | R | 2140 | 2 | 13,2a | Haugstad Kenneth | Walmann Roger | 800,000 |
| S | 161023-1 | | 2140 | 1 | 14,1a | Haugstad Kenneth | Walmann Roger | 100,000 |
| S | 161012-7 | | 2140 | 1 | 13,4a | Haugstad Kenneth | Walmann Roger | 100,000 |
| S | 160925-6 | R | 2140 | d | tr2a | Haugstad Kenneth | Walmann Roger | 0 |
| S | 160912-9 | | 2140 | 0 | uag | Kihlström Örjan | Walmann Roger | 0 |
| S | 160817-6 | R | 1640 | 1 | 11,3a | Kihlström Örjan | Walmann Roger | 150,000 |
| G | 160808-5 | | 1640 | 0 | 23,2ag | Kihlström Örjan | Walmann Roger | 0 |
| Ax | 160722-11 | | 2140 | 1 | 15,2a | Haugstad Kenneth | Walmann Roger | 100,000 |
| E | 160701-9 | | 2140 | 1 | 14,6a | Kihlström Örjan | Walmann Roger | 80,000 |
| B | 160620-3 | | 2140 | d | uag | Kihlström Örjan | Walmann Roger | 0 |
| S | 160608-8 | | 2140 | 2 | 14,1a | Haugstad Kenneth | Walmann Roger | 50,000 |
| S | 160504-7 | | 2140 | 1 | 14,0a | Haugstad Kenneth | Walmann Roger | 100,000 |
| Ö | 160414-7 | | 2100 | 1 | 15,2a | Haugstad Kenneth | Walmann Roger | 70,000 |
| S | 160402-2 | | 2140 | 2 | 14,7a | Haugstad Kenneth | Walmann Roger | 25,000 |
| F | 160314-3 | | 2140 | 1 | 17,9 | Haugstad Kenneth | Walmann Roger | 50,000 |
| S | 151021-14 | K | 2140 | gdk | 22,3 | Haugstad Kenneth | Walmann Roger | 0 |
| Born | Name | Sex | Start | Results | Record | Auto | Earnings |
| --- | --- | --- | --- | --- | --- | --- | --- |
| 2019 | Wonderful Tonight | Sto | 13 | 1-0-3 | 15,9m | 13,2am | 179000 |
| 2021 | Merillion | Hingst | 0 | 0-0-0 | | | |