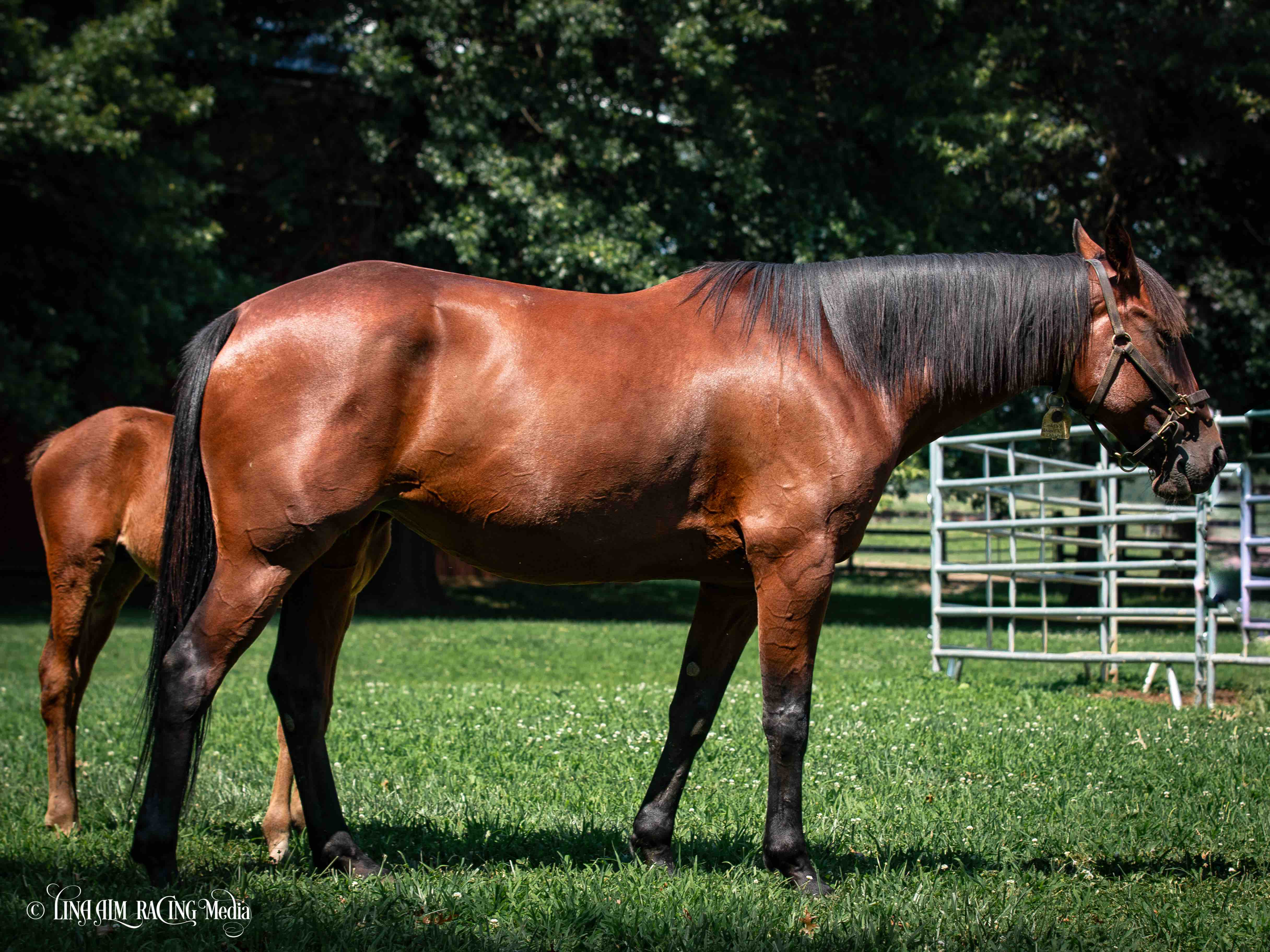 Curtsy Hanover
In foal to Muscle Hill due 24th of April 2024
Facts
Record
*13,7k 11,4ak 12,5am 10,4aak
Board
Concord Stud Farm KY
Biography
Curtsy Hanover took a record of BT 1:53,4/1.10,4 as a three year old for Paul Kelley in USA. At the end of the season she was shipped to Sweden and Roger Walmann and there she won a V75 race. She raced 31 times and won in 8 with 920.000 SEK in earnings and a record of 1.10,4aak.
Her siblings have also been succesful on the track, Armbro Casino 1.11,7/$468,938, Armbro Affair 1.10,7/$430.997 and Call Me Hanover 1.10,9/2.223.691 SEK. Armbro Affair is the dam of top trotting filly Only Take Cash 1.53,0/$688,311. She has won 15 out of 19 races and never finished worst than third.
The maternal line descends from Egyptian Jody and has great success with a large number of horses like Uncle Peter, Maven, Treasure Kronos, Magnetic Power, Harmonious, Flirtin Miss to name a few.
Pedigree
cantab hall
self possessed
victory dream
feeling great
canland hall
garland lobell
canne angus
chiptease
pine chip
arndon
pine speed
flirt alert
valley victory
triangle park
| Year | Starts | Results | Earnings |
| --- | --- | --- | --- |
| Life | 23 | 3-6-3 | 596,048 |
| 2023 | 0 | 0-0-0 | 0 |
| 2015 | 8 | 1-0-1 | 62,800 |
| 2014 | 10 | 2-5-0 | 387,800 |
| 2013 | 5 | 0-1-2 | 145,448 |
| Track | Date-Race | Race type | Dist | Res. | Time | Driver | Trainer | Earnings |
| --- | --- | --- | --- | --- | --- | --- | --- | --- |
| S | 150926-5 | R | 1640 | 0 | 12,1a | Jansson Torbjörn | Walmann Roger | 0 |
| Mp | 150907-5 | | 1660 | 1 | 13,7 | Kihlström Örjan | Walmann Roger | 30,000 |
| Ax | 150719-7 | R | 1640 | 0 | 12,9a | Ärling Tino | Walmann Roger | 0 |
| Hd | 150704-2 | | 1609 | 0 | 11,9a | Kihlström Örjan | Walmann Roger | 0 |
| Mp | 150628-10 | | 1640 | 3 | 12,3a | Haugstad Kenneth | Walmann Roger | 8,500 |
| S | 150610-8 | | 2140 | 4 | 13,0a | Kihlström Örjan | Walmann Roger | 8,000 |
| S | 150408-2 | | 1640 | str, sårskada | | Kihlström Örjan | Walmann Roger | 0 |
| Ö | 150316-11 | | 1609 | 4 | 13,6a | Kihlström Örjan | Walmann Roger | 5,700 |
| S | 150304-9 | | 2140 | 4 | 13,2a | Kihlström Örjan | Walmann Roger | 10,600 |
| S | 140827-10 | | 1640 | 5 | 11,4a | Haugstad Kenneth | Walmann Roger | 6,400 |
| Å | 140816-11 | R | 2140 | 0 | 13,8a | Kihlström Örjan | Walmann Roger | 0 |
| Rä | 140802-10 | R | 1640 | 1 | 11,5a | Kihlström Örjan | Walmann Roger | 110,000 |
| År | 140712-5 | R | 1640 | 2 | 12,2a | Kihlström Örjan | Walmann Roger | 55,000 |
| L | 140702-10 | R | 1640 | 2 | 11,5a | Kihlström Örjan | Walmann Roger | 55,000 |
| S | 140611-4 | | 2140 | 2 | 12,5a | Haugstad Kenneth | Walmann Roger | 32,500 |
| Å | 140528-5 | R | 1640 | 2 | 11,5a | Kihlström Örjan | Walmann Roger | 50,000 |
| S | 140514-5 | | 2140 | 1 | 14,1a | Kihlström Örjan | Walmann Roger | 40,000 |
| Å | 140426-2 | | 1640 | 5 | 12,6a | Kihlström Örjan | Walmann Roger | 6,400 |
| S | 140409-2 | | 1640 | 2 | 12,4a | Untersteiner Johan | Walmann Roger | 32,500 |
| Us | 130825-7 | | 1609 | 0 | 11,6a | Callahan Corey | Kelley Paul L | 0 |
| Us | 130816-10 | | 1609 | 0 | 12,5a | Callahan Corey | Kelley Paul L | 0 |
| Me | 130802-7 | | 1609 | 3 | 11,1a | Callahan Corey | Kelley Paul L | 24,147 |
| Us | 130726-6 | K | 1609 | gdk | 12,6a | Lems Chris | Kelley Paul L | 0 |
| Us | 130630-9 | | 1609 | 2 | 10,5a | Pierce Ron | Kelley Paul L | 58,692 |
| Us | 130619-10 | | 1609 | 3 | 10,4a | Simons Mike | Kelley Paul L | 62,609 |
| Born | Name | Sex | Start | Results | Record | Auto | Earnings |
| --- | --- | --- | --- | --- | --- | --- | --- |
| 2018 | Wings Of Glory | Hingst | 0 | 0-0-0 | | | |
| 2019 | Goldeneye | Sto | 0 | 0-0-0 | | | |
| 2021 | Take A Bow | Sto | 0 | 0-0-0 | | | |