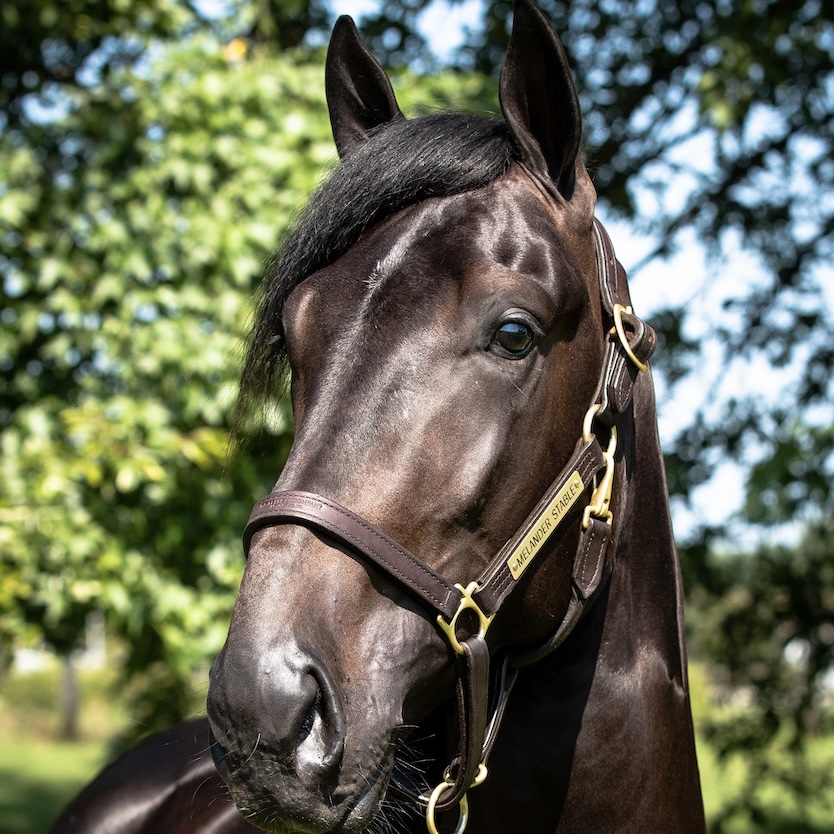 Maesteraemon (US)
Fakta
Startprissumma
1.998.084 kr
Biografi
20/6 (kvallopp) Öppnade bra, kröp ner i rygg, vann obrukad på 1:54. Ser ut att få ett spännande år.
27/6 (årsdebut) Spår 7 och togs lugnt från start. Låg näst sist hela vägen med lustempo i täten. Avslutade 1.07 sista 800 och såg fantastisk ut som femma på 1:52,2. Blir att räkna med i alla sammanhang i år.
11/7 (M) Togs lugnt från start och hamnade en bit bak. Avslutade mycket positiv, men chanslös att stå emot Back of the Neck. Slutade trea på 1:52,1.
18/7 (Stanley Dancer Mem.) Längst ut bakom vingen. Togs lugnt från start och låg sist. Kördes invändigt och spurtade bra mellan hästar och slutade femma med 27,1 sista quartern. Såg fantastisk ut.
1/8 (Hambletonian förs.) Bricka fem och togs upp direkt. Låg sist hela vägen. Spurtade enormt längst ut men slog ihop och galopperade.
16/8 (PASS, ChD) Bricka fem och snabb ut. Sedermera tredje invändigt. Spurtade invändigt och löpte dött lopp med EL Ideal. Kanoninsats!
24/8 (PASS, Mea) Galopp i sista sväng som tvåa. Banan?
31/8 (PASS, Mea) Togs lugnt från start och låg sjua. Såg ej ut att passa på banan, hård och lös. Galopperade över upploppet under attack. Mot Lexington!
Stamtavla
andover hall
garland lobell
abc freight
gamin lobell
amour angus
magna force
kenwood scamper
angel pie
muscles yankee
valley victory
maiden yankee
precious pleasure
super bowl
BJ's pleasure
| År | Starter | Placeringar | Startprissumma |
| --- | --- | --- | --- |
| Livs | 29 | 0-5-5 | 1.016.797 |
| 2023 | 0 | 0-0-0 | 0 |
| 2022 | 8 | 0-2-1 | 163.900 |
| 2021 | 16 | 0-3-3 | 716.000 |
| 2020 | 5 | 0-0-1 | 136.897 |
| Bana | Datum-Lopp | Lopptyp | Dist | Res. | Tid | Kusk/ryttare | Tränare | Vinst |
| --- | --- | --- | --- | --- | --- | --- | --- | --- |
| U | 221118-7 | | 1640 | 2 | 13,2a | Eriksson Sandra | Eriksson Sandra | 20.000 |
| Bo | 221110-4 | | 2140 | 3 | 14,8a | Eriksson Sandra | Eriksson Sandra | 8.500 |
| Bo | 221016-10 | | 2140 | 6 | 14,5a | Eriksson Sandra | Eriksson Sandra | 5.400 |
| Rä | 220711-8 | | 2140 | 0 | 13,2a | Kontio Jorma | Melander Stefan | 1.500 |
| S | 220622-9 | | 2140 | 4 | 11,7a | Djuse Mats E | Melander Stefan | 17.500 |
| U | 220514-9 | | 2140 | 5 | 13,4a | Djuse Mats E | Melander Stefan | 20.000 |
| Mp | 220425-8 | | 2140 | 2 | 12,0a | Djuse Mats E | Melander Stefan | 75.000 |
| F | 220415-7 | | 1640 | 6 | 09,9a | Djuse Mats E | Melander Stefan | 16.000 |
| S | 211126-9 | | 2140 | 6 | 12,8a | Lennartsson Per | Melander Stefan | 18.000 |
| E | 211107-12 | | 2140 | 0 | 13,1a | Djuse Magnus A | Melander Stefan | 500 |
| S | 211024-12 | | 2140 | 4 | 12,1a | Djuse Magnus A | Melander Stefan | 26.500 |
| F | 211005-8 | | 2140 | 2 | 11,6a | Djuse Magnus A | Melander Stefan | 55.000 |
| G | 210909-6 | | 1640 | 2 | 10,9a | Djuse Magnus A | Melander Stefan | 75.000 |
| B | 210827-5 | | 2140 | 3 | 12,5a | Djuse Magnus A | Melander Stefan | 29.000 |
| Å | 210814-2 | | 2140 | 7 | 14,1a | Djuse Magnus A | Melander Stefan | 10.000 |
| Mp | 210802-8 | | 2140 | 6 | 13,3a | Goop Björn | Melander Stefan | 10.000 |
| E | 210721-10 | | 2640 | 3 | 14,0a | Djuse Magnus A | Melander Stefan | 55.000 |
| Hd | 210708-14 | | 1609 | 3 | 10,4a | Djuse Magnus A | Melander Stefan | 275.000 |
| Hd | 210708-8 | | 1609 | 4 | 11,9a | Kihlström Örjan | Melander Stefan | 17.500 |
| Mp | 210605-10 | | 2140 | 0 | 11,9ag | Ohlsson Ulf | Melander Stefan | 500 |
| Ö | 210520-9 | | 2100 | 5 | 13,0a | Ohlsson Ulf | Melander Stefan | 13.500 |
| Å | 210508-7 | | 2140 | 5 | 13,4a | Goop Björn | Melander Stefan | 80.000 |
| Å | 210423-7 | | 2140 | 2 | 13,1a | Goop Björn | Melander Stefan | 50.000 |
| G | 210415-6 | | 2140 | d | 4ag | Leo Emilia | Melander Stefan | 500 |
| Us | 201031-11 | | 1609 | 7 | 10,7a | Zeron Scott | Melander Marcus M | 46.908 |
| Us | 201024-13 | | 1609 | 3 | 09,9a | Tetrick Tim | Melander Marcus M | 28.145 |
| Us | 201015-10 | | 1609 | 4 | 11,3a | Miller Lewayne | Melander Marcus M | 9.382 |
| Us | 201004-2 | | 1609 | 4 | 09,6a | Tetrick Tim | Melander Marcus M | 52.462 |
| Us | 200922-16 | K | 1609 | gdk | 10,4a | Melander Marcus M | Melander Marcus M | 0 |
| Us | 200831-7 | | 1609 | 0 | 12,6ag | Tetrick Tim | Melander Marcus M | 0 |