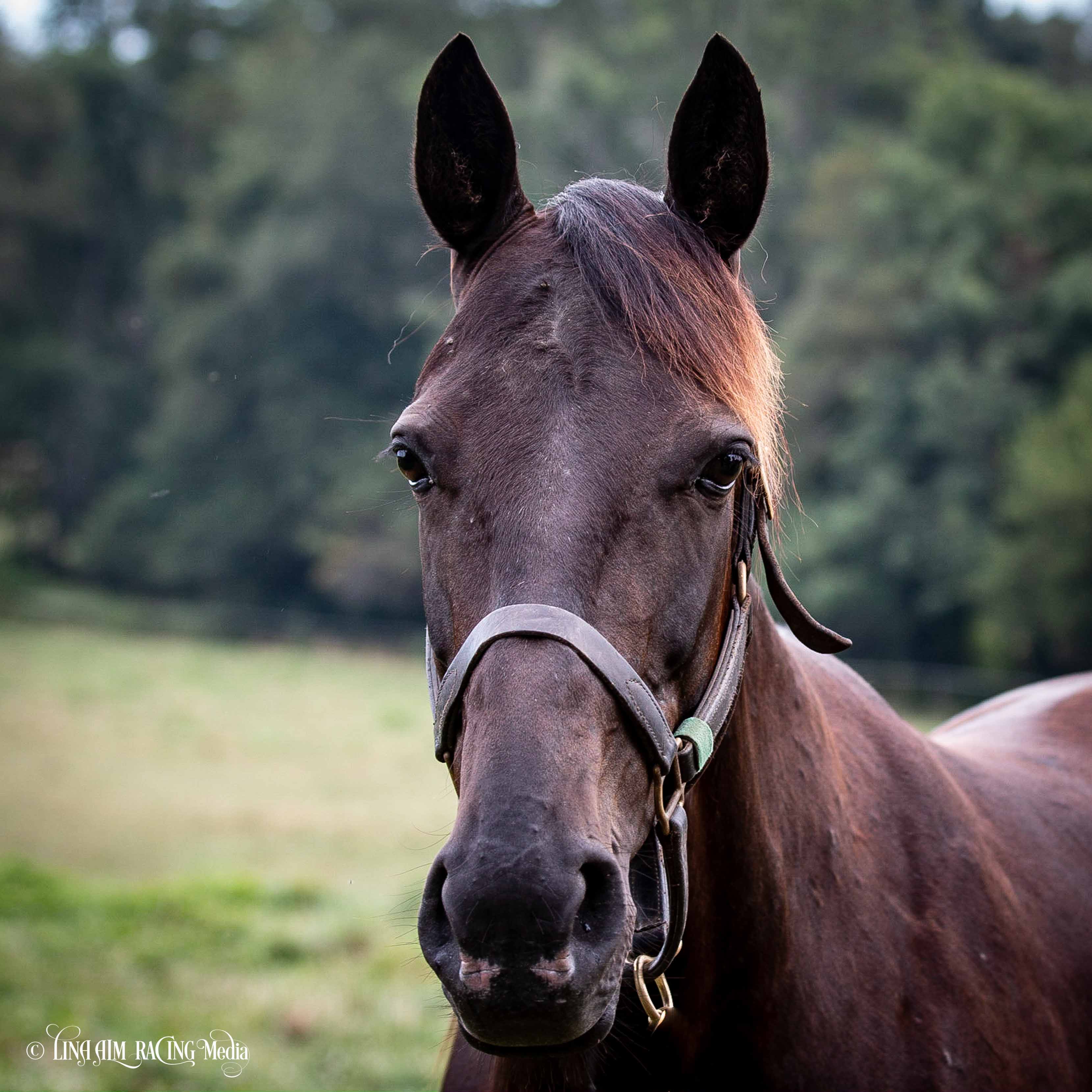 Rare Wise As
In foal to Captain Corey due 29th of March 2023
Facts
Record
15,8l 13,5ak *13,2am
Biography
Rare Wise As was purchased at a yearling sale in Italy. At Jerry Riordan she won six times and took a mark of 1.13,2/2140 meters in one of these victories.
She is a daughter by Varenne and descends from a great maternal line. Her dam In Wise As was one of the best in her crop in Italy and raced 19 times with the result 8-4-2. She made €221.288 lifetime and took a mark of 1.12,3/1640 meters. Among her siblings there are five Gran Premio winners including; Mind Wise As 1.13,4/€291.407, Swan Wise As 1.11,4/€120.038 and UET Wise As 1.12,3/€116.365.
From the maternal line we also find True Blue Victory who raced well for Berndt Lindstedt and Jan E Johnson in USA. As a two year old she won the Goldsmith Maid and finished second in the Merrie Annabelle Trot. Her earnings exceed $600,000 lifetime. Other horses to mention from this family is; Blacktuxwhitesocks 1.10,4/$962,895 and Man About Town 1.10,2/$888,291.
Pedigree
varenne
waikiki beach
speedy somolli
hula lobell
ialmaz
zebu
baree
in wise as
SJ's caviar
SJ's photo
spawning
garden variety
tagliabue
miss victory spur
| Year | Starts | Results | Earnings |
| --- | --- | --- | --- |
| Life | 45 | 6-3-6 | 348,700 |
| 2023 | 0 | 0-0-0 | 0 |
| 2015 | 6 | 1-0-1 | 50,250 |
| 2014 | 22 | 3-1-4 | 217,950 |
| 2013 | 17 | 2-2-1 | 80,500 |
| Track | Date-Race | Race type | Dist | Res. | Time | Driver | Trainer | Earnings |
| --- | --- | --- | --- | --- | --- | --- | --- | --- |
| Mp | 150907-7 | | 2140 | 0 | 17,0ag | Haugstad Kenneth | Walmann Roger | 0 |
| S | 150828-6 | | 2140 | 3 | 14,4a | Kihlström Örjan | Walmann Roger | 8,500 |
| S | 150508-5 | | 1640 | d | 11ag | Kihlström Örjan | Walmann Roger | 0 |
| J | 150218-8 | | 2140 | d | 2ag | Ingves Peter | Riordan Jerry | 0 |
| Hd | 150209-7 | | 1640 | 1 | 13,5a | Takter Johnny | Riordan Jerry | 35,000 |
| Hd | 150126-6 | | 2160 | 4 | 16,9 | Allercrantz Linda | Riordan Jerry | 6,750 |
| Kr | 141229-6 | | 2160 | d | 12g | Eklundh André | Riordan Jerry | 0 |
| Å | 141210-9 | | 2140 | 4 | 15,8a | Takter Johnny | Riordan Jerry | 8,000 |
| Bj | 141122-7 | | 2160 | d | 4g | Takter Johnny | Riordan Jerry | 0 |
| J | 141112-8 | | 3160 | 3 | 15,8 | Untersteiner Johan | Riordan Jerry | 16,500 |
| E | 141102-8 | R | 2140 | 4 | 13,4a | Untersteiner Johan | Riordan Jerry | 13,000 |
| J | 140906-9 | R | 2140 | d | 8ag | Allercrantz Linda | Riordan Jerry | 0 |
| Å | 140816-8 | R | 2140 | 2 | 13,6a | Allercrantz Linda | Riordan Jerry | 35,500 |
| Å | 140806-3 | | 2140 | 1 | 13,7a | Allercrantz Linda | Riordan Jerry | 60,000 |
| Ax | 140719-6 | R | 1640 | 0 | uag | Allercrantz Linda | Riordan Jerry | 0 |
| Hd | 140705-4 | | 2140 | 1 | 13,2a | Allercrantz Linda | Riordan Jerry | 40,000 |
| J | 140624-6 | | 1640 | 1 | 13,8a | Allercrantz Linda | Riordan Jerry | 15,000 |
| Hd | 140616-7 | | 1660 | 0 | 16,0 | Allercrantz Linda | Riordan Jerry | 0 |
| Hd | 140602-9 | | 2160 | 3 | 16,4 | Söderkvist Stefan | Riordan Jerry | 4,400 |
| Kr | 140523-8 | | 2140 | 5 | 15,2 | Högström Lars | Riordan Jerry | 3,650 |
| Å | 140507-3 | | 1640 | 6 | 13,5a | Eklundh André | Riordan Jerry | 2,700 |
| Kr | 140425-8 | | 2160 | d | 13g | Eklundh André | Riordan Jerry | 0 |
| Hd | 140410-1 | | 2140 | 3 | 16,4 | Persson Stefan | Riordan Jerry | 7,000 |
| Å | 140320-6 | | 2160 | d | 12g | Haugstad Kenneth | Riordan Jerry | 0 |
| Hd | 140310-4 | | 1660 | 3 | 14,3 | Haugstad Kenneth | Riordan Jerry | 7,000 |
| Hd | 140223-9 | | 1640 | 6 | 15,1a | Haugstad Kenneth | Riordan Jerry | 2,700 |
| Hd | 140210-6 | | 1640 | 5 | 16,0a | Haugstad Kenneth | Riordan Jerry | 2,500 |
| J | 140128-8 | | 2160 | 0 | 21,1g | Haugstad Kenneth | Riordan Jerry | 0 |
| Hd | 131230-6 | | 1640 | str, feber | | Haugstad Kenneth | Riordan Jerry | 0 |
| J | 131217-9 | | 2140 | str, feber | | Haugstad Kenneth | Riordan Jerry | 0 |
| J | 131130-3 | | 1640 | 1 | 14,0a | Haugstad Kenneth | Riordan Jerry | 30,000 |
| Hd | 131118-10 | | 2160 | 2 | 16,4 | Haugstad Kenneth | Riordan Jerry | 7,500 |
| Hd | 131030-9 | | 2140 | 3 | 15,9a | Haugstad Kenneth | Riordan Jerry | 7,500 |
| Hd | 131028-9 | | 2140 | str, loppet inställt | | Haugstad Kenneth | Riordan Jerry | 0 |
| Mp | 131007-10 | | 1640 | 4 | 15,0a | Haugstad Kenneth | Riordan Jerry | 2,500 |
| Å | 130912-3 | | 2140 | 0 | 16,9a | Haugstad Kenneth | Riordan Jerry | 0 |
| Vg | 130825-5 | | 1640 | 1 | 15,0a | Haugstad Kenneth | Riordan Jerry | 15,000 |
| Hd | 130803-4 | | 1640 | d | 10ag | Eriksson Christoffer | Riordan Jerry | 0 |
| Hd | 130715-8 | | 2140 | 2 | 18,0a | Haugstad Kenneth | Riordan Jerry | 12,500 |
| Å | 130627-2 | | 2140 | 0 | 19,3ag | Haugstad Kenneth | Riordan Jerry | 0 |
| Hd | 130610-2 | | 2140 | 0 | 19,3ag | Heiskanen Veijo | Riordan Jerry | 0 |
| Å | 130523-3 | | 2140 | 4 | 17,6 | Haugstad Kenneth | Riordan Jerry | 5,500 |
| J | 130430-2 | | 2140 | 0 | 18,5 | Haugstad Kenneth | Riordan Jerry | 0 |
| Hd | 130415-13 | K | 2140 | gdk | 21,5 | Eriksson William | Riordan Jerry | 0 |
| Bl | 130216-1 | | 1600 | d | 0ag | Andreghetti Roberto | Riordan Jerry | 0 |
| Tu | 130131-3 | | 1600 | d | 0ag | Vecchione Roberto | Riordan Jerry | 0 |
| I | 130118-1 | | 1600 | d | 0ag | Barbini M | Riordan Jerry | 0 |
| Tu | 130112-5 | | 1600 | d | 0ag | Farolfi Andrea | Riordan Jerry | 0 |
| Tu | 130105-2 | | 1600 | 0 | 18,3a | Parenti E | Riordan Jerry | 0 |
| Born | Name | Sex | Start | Results | Record | Auto | Earnings |
| --- | --- | --- | --- | --- | --- | --- | --- |
| 2017 | Rare Magic | Valack | 19 | 4-4-7 | *16,3m | 11,8ak | 474900 |
| 2018 | Rarely Access (us) | Hingst | 14 | 2-1-0 | *17,1k | 16,4ak | 43222 |
| 2021 | Miyagi | Hingst | 0 | 0-0-0 | | | |