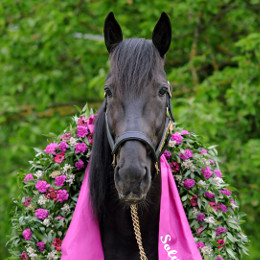 Magic Tonight
Standing stud at Björkhaga Stuteri
Facts
Record
*09,3ak 11,3am 10,0aak
Biography
Pedigree that speaks for itself!
MAGIC TONIGHT's sire Andover Hall has been a top stallion competing with the best stallions in the world for many years. His son Donato Hanover 1.08,5aak/21.401.564 SEK was one of the leading sires in USA. Andover Hall has also produced Nuncio, 1.08,7ak/28.660.230 kr, Creatine, 1.09,2ak/$2,182,138, Pampered Princess, 1.10,2aak/$1,740,605 and 2017 Hambletonian Champion and 2018 Kungapokalsvinnare, our own Perfect Spirit 1.09,2aak/10.123.576 SEK.
The maternal line is extremely succesful. Second dam Ms Vic $294,979 was sold as a yearling for $250,000. Fourth dam Allegro has through her genes produced millionaires Lookout Victory $1.921.604, Possess The Magic $1.102.619 och Cedar Dove $1.185.081, and Two Year Old Trotting Filly of Yhe Year in USA 2017, Manchego $2,5M. Horse of The Year in USA 2017 is the fantastic Hannelore Hanover 1.08,0aak/$3,1M, who also have Allegro´s blood in her, since her sire Swan for All descends from this family.
In Sweden we have seen great horses descending from this family such as; Mystical Ann 1.11,8ak/2.139.146 kr, dam of 2016 Svenskt Trav-Oaks winner Spoil Me 1.10,3ak/3.889.000 kr and True Advantage 1.10,7ak/2.936.844 kr.
Elitlopp Champion!
MAGIC TONIGHT won three times in 1.09 (km rate) as a 5-year old (1.09,3a, 1.09,5a, 1.09,9a) He won Årjängs Stora Sprinterlopp. 2015 he won elimination (1.09,7) and final of Elitloppet. He started his career in USA as a two year old with three wins and two second place finishes in seven starts, and took a record 1.11,6ak. At three he won Pennsylvania Sire Stakes ($200.000) and finished second in Zweig Memorial.
Pedigree
andover hall
garland lobell
abc freight
gamin lobell
amour angus
magna force
kenwood scamper
miss possessed
self possessed
victory dream
feeling great
ms vic
valley victory
higher love
Hypothetical pedigree
Submit a dam's name below to create a hypothetical pedigree with this stallion.

Interest form
| Year | Starts | Results | Earnings |
| --- | --- | --- | --- |
| Life | 58 | 14-10-2 | 6,980,927 |
| 2021 | 0 | 0-0-0 | 0 |
| 2017 | 9 | 0-1-0 | 126,100 |
| 2016 | 13 | 0-3-1 | 277,000 |
| 2015 | 10 | 4-0-0 | 3,693,991 |
| 2014 | 11 | 5-1-1 | 1,630,470 |
| 2013 | 15 | 5-5-0 | 1,253,366 |
| Track | Date-Race | Race type | Dist | Res. | Time | Driver | Trainer | Earnings |
| --- | --- | --- | --- | --- | --- | --- | --- | --- |
| S | 171001-7 | R | 2140 | 0 | 12,3a | Kihlström Örjan | Walmann Roger | 0 |
| Bs | 170916-9 | R | 1640 | 6 | 11,2a | Haugstad Kenneth | Walmann Roger | 8,000 |
| J | 170902-7 | R | 1640 | 5 | 11,6a | Kihlström Örjan | Walmann Roger | 12,000 |
| H | 170729-7 | R | 1640 | 2 | 10,1a | Kihlström Örjan | Walmann Roger | 75,000 |
| E | 170719-7 | | 1640 | 5 | 10,7a | Haugstad Kenneth | Walmann Roger | 8,500 |
| L | 170705-7 | | 1640 | 4 | 10,9a | Haugstad Kenneth | Walmann Roger | 13,500 |
| E | 170621-9 | | 1640 | 4 | 11,3a | Kihlström Örjan | Walmann Roger | 9,100 |
| G | 170520-10 | R | 1609 | 0 | 10,4a | Haugstad Kenneth | Walmann Roger | 0 |
| Å | 170513-9 | R | 1609 | d | 9ag | Haugstad Kenneth | Walmann Roger | 0 |
| B | 161112-9 | R | 1640 | 4 | 12,2a | Haugstad Kenneth | Walmann Roger | 19,000 |
| Ro | 161022-7 | R | 1640 | 4 | 11,5a | Haugstad Kenneth | Walmann Roger | 19,000 |
| Ax | 161011-7 | | 1640 | 2 | 11,7a | Adielsson Erik | Walmann Roger | 15,000 |
| S | 160924-11 | R | 2140 | 2 | 11,3a | Haugstad Kenneth | Walmann Roger | 125,000 |
| H | 160910-7 | R | 1640 | 0 | 11,0a | Haugstad Kenneth | Walmann Roger | 0 |
| B | 160826-4 | | 1640 | 0 | 11,9a | Haugstad Kenneth | Walmann Roger | 0 |
| Rä | 160806-7 | R | 1640 | 0 | 11,8a | Haugstad Kenneth | Walmann Roger | 0 |
| E | 160720-4 | | 1640 | 3 | 10,7a | Haugstad Kenneth | Walmann Roger | 25,000 |
| L | 160706-6 | | 1640 | 2 | 11,7a | Haugstad Kenneth | Walmann Roger | 50,000 |
| Kr | 160626-10 | R | 1640 | 5 | 10,5a | Haugstad Kenneth | Walmann Roger | 12,000 |
| S | 160529-10 | R | 1609 | 0 | 10,4a | Adielsson Erik | Walmann Roger | 0 |
| G | 160521-11 | R | 1609 | 6 | 10,0a | Kihlström Örjan | Walmann Roger | 12,000 |
| Ö | 160507-7 | R | 1609 | 0 | 11,7a | Kihlström Örjan | Walmann Roger | 0 |
| Us | 151010-9 | | 1609 | 0 | 11,0a | Miller David | Walmann Roger | 0 |
| Us | 151002-13 | K | 1609 | gdk | 12,0 | Johansson Marcus S | Walmann Roger | 0 |
| Ca | 150912-8 | | 1609 | 0 | 11,1a | Johansson Marcus S | Walmann Roger | 0 |
| Us | 150821-9 | | 1609 | 4 | 10,0a | Kihlström Örjan | Walmann Roger | 121,160 |
| Me | 150808-5 | | 1810 | 11 | 10,6a | Kihlström Örjan | Walmann Roger | 22,831 |
| Me | 150725-12 | K | 1609 | gdk | 10,9a | Johansson Marcus S | Walmann Roger | 0 |
| S | 150531-14 | | 1609 | 1 | 10,1a | Kihlström Örjan | Walmann Roger | 3,000,000 |
| S | 150531-9 | R | 1609 | 1 | 09,7a | Kihlström Örjan | Walmann Roger | 250,000 |
| Å | 150516-8 | R | 1609 | 1 | 10,5a | Kihlström Örjan | Walmann Roger | 150,000 |
| Ö | 150502-7 | R | 1609 | 1 | 11,0a | Kihlström Örjan | Walmann Roger | 150,000 |
| Mp | 150418-7 | R | 1640 | 0 | 12,1ag | Haugstad Kenneth | Walmann Roger | 0 |
| Kl | 150404-9 | | 2100 | 0 | 13,6a | Kihlström Örjan | Walmann Roger | 0 |
| Ro | 140919-7 | | 1640 | 1 | 10,4a | Kihlström Örjan | Walmann Roger | 75,000 |
| J | 140906-11 | R | 1640 | 0 | 11,0a | Kihlström Örjan | Walmann Roger | 0 |
| S | 140820-11 | R | 2140 | 0 | 12,4a | Kihlström Örjan | Walmann Roger | 0 |
| J | 140729-10 | R | 1609 | 4 | 10,2a | Untersteiner Johan | Walmann Roger | 100,000 |
| År | 140712-11 | R | 1640 | 1 | 09,9a | Untersteiner Johan | Walmann Roger | 600,000 |
| Kr | 140622-7 | R | 1640 | 6 | 11,6a | Haugstad Kenneth | Walmann Roger | 8,000 |
| Bs | 140613-8 | | 2140 | 1 | 12,4a | Kihlström Örjan | Walmann Roger | 100,000 |
| Å | 140528-6 | R | 1640 | 1 | 09,3a | Kihlström Örjan | Walmann Roger | 100,000 |
| Ch | 140511-11 | | 2011 | 2 | 12,2a | Kihlström Örjan | Walmann Roger | 362,970 |
| F | 140418-10 | | 1640 | 1 | 09,5a | Untersteiner Johan | Walmann Roger | 250,000 |
| Mp | 140407-7 | | 2140 | 3 | 12,8a | Kihlström Örjan | Walmann Roger | 34,500 |
| S | 131116-11 | R | 2140 | 2 | 12,8a | Untersteiner Johan | Walmann Roger | 180,000 |
| J | 131026-5 | R | 2140 | 5 | 13,3a | Untersteiner Johan | Walmann Roger | 35,000 |
| S | 131009-11 | | 2140 | 1 | 11,6a | Kihlström Örjan | Walmann Roger | 150,000 |
| S | 130928-10 | R | 2140 | 0 | 13,4a | Untersteiner Johan | Walmann Roger | 0 |
| G | 130919-7 | | 1640 | 1 | 11,3a | Kihlström Örjan | Walmann Roger | 200,000 |
| J | 130831-11 | R | 1640 | 2 | 11,2a | Kihlström Örjan | Walmann Roger | 66,000 |
| S | 130814-10 | R | 2140 | 0 | 12,5a | Kihlström Örjan | Walmann Roger | 0 |
| J | 130730-8 | R | 1609 | 1 | 10,8a | Kihlström Örjan | Walmann Roger | 300,000 |
| B | 130718-8 | | 2140 | 2 | 13,0a | Kihlström Örjan | Walmann Roger | 125,000 |
| Bs | 130702-3 | | 2140 | 4 | 12,1a | Kihlström Örjan | Walmann Roger | 6,200 |
| Me | 130504-6 | | 1609 | 0 | 10,5a | Campbell John | Daley Noel | 0 |
| Us | 130501-10 | | 1609 | 1 | 10,1a | Mccarthy Andrew John | Daley Noel | 63,722 |
| Us | 130424-12 | | 1609 | 2 | 11,8a | Mccarthy Andrew John | Daley Noel | 31,861 |
| Us | 130417-10 | | 1609 | 2 | 10,5a | Mccarthy Andrew John | Daley Noel | 31,861 |
| Us | 130410-12 | | 1609 | 1 | 11,3a | Mccarthy Andrew John | Daley Noel | 63,722 |
| Born | Name | Sex | Start | Results | Record | Auto | Earnings |
| --- | --- | --- | --- | --- | --- | --- | --- |
| 2016 | Black Pepper | Valack | 0 | 0-0-0 | | | |
| 2017 | Rare Magic | Valack | 3 | 1-0-1 | *17,1m | 16,9am | 39400 |
| 2017 | Cracker Jack | Valack | 12 | 2-1-2 | 16,1m | 13,7am | 162100 |
| 2017 | Magic Sunday | Hingst | 0 | 0-0-0 | | | |
| 2017 | Wish Me Magic | Hingst | 2 | 1-0-0 | *17,2m | 15,7am | 66000 |
| 2018 | Black Magic Eyes | Sto | 0 | 0-0-0 | | | |
| 2018 | Magic Nightrider | Valack | 0 | 0-0-0 | | | |
| 2018 | Magic Luck | Sto | 0 | 0-0-0 | | | |
| 2018 | Nightwatcher | Hingst | 0 | 0-0-0 | | | |
| 2019 | Ex Libris | Sto | 0 | 0-0-0 | | | |
| 2019 | Wonderful Tonight | Sto | 0 | 0-0-0 | | | |
| 2019 | Eucalyptus | Hingst | 0 | 0-0-0 | | | |
| 2019 | Gendry | Sto | 0 | 0-0-0 | | | |
| 2019 | Fix You | Hingst | 0 | 0-0-0 | | | |
| 2019 | Budets Olof | Hingst | 0 | 0-0-0 | | | |
| 2019 | Sandor | Hingst | 0 | 0-0-0 | | | |
| 2019 | Magic Wisdom | Hingst | 0 | 0-0-0 | | | |
| 2019 | Qojak V.w. | Hingst | 0 | 0-0-0 | | | |
| 2019 | Hey Presto | Hingst | 0 | 0-0-0 | | | |
| 2019 | Magic Royalty | Hingst | 0 | 0-0-0 | | | |
| 2019 | Magic Image | Hingst | 0 | 0-0-0 | | | |
| 2019 | Rescuer | Hingst | 0 | 0-0-0 | | | |
| 2019 | Sparkling Night | Sto | 0 | 0-0-0 | | | |
| 2019 | Ayra | Sto | 0 | 0-0-0 | | | |
| 2019 | Magic Match | Sto | 0 | 0-0-0 | | | |
| 2020 | Ej Färdigregistrerad | Sto | 0 | | | | |
| 2020 | Ej Färdigregistrerad | Sto | 0 | | | | |
| 2020 | Ej Färdigregistrerad | Sto | 0 | | | | |
| 2020 | Ej Färdigregistrerad | Hingst | 0 | | | | |
| 2020 | Ej Färdigregistrerad | Hingst | 0 | | | | |
| 2020 | Ej Färdigregistrerad | Sto | 0 | | | | |
| 2020 | Ej Färdigregistrerad | Sto | 0 | | | | |
| 2020 | Ej Färdigregistrerad | Sto | 0 | | | | |
| 2020 | Ej Färdigregistrerad | Sto | 0 | | | | |
| 2020 | Ej Färdigregistrerad | Hingst | 0 | | | | |
| 2020 | Ej Färdigregistrerad | Sto | 0 | | | | |
| 2020 | Ej Färdigregistrerad | Hingst | 0 | | | | |
| 2020 | Ej Färdigregistrerad | Hingst | 0 | | | | |
| 2020 | Magical | Hingst | 0 | 0-0-0 | | | |
| 2020 | Candy Tonight | Sto | 0 | 0-0-0 | | | |
| 2020 | Ej Färdigregistrerad | Sto | 0 | | | | |