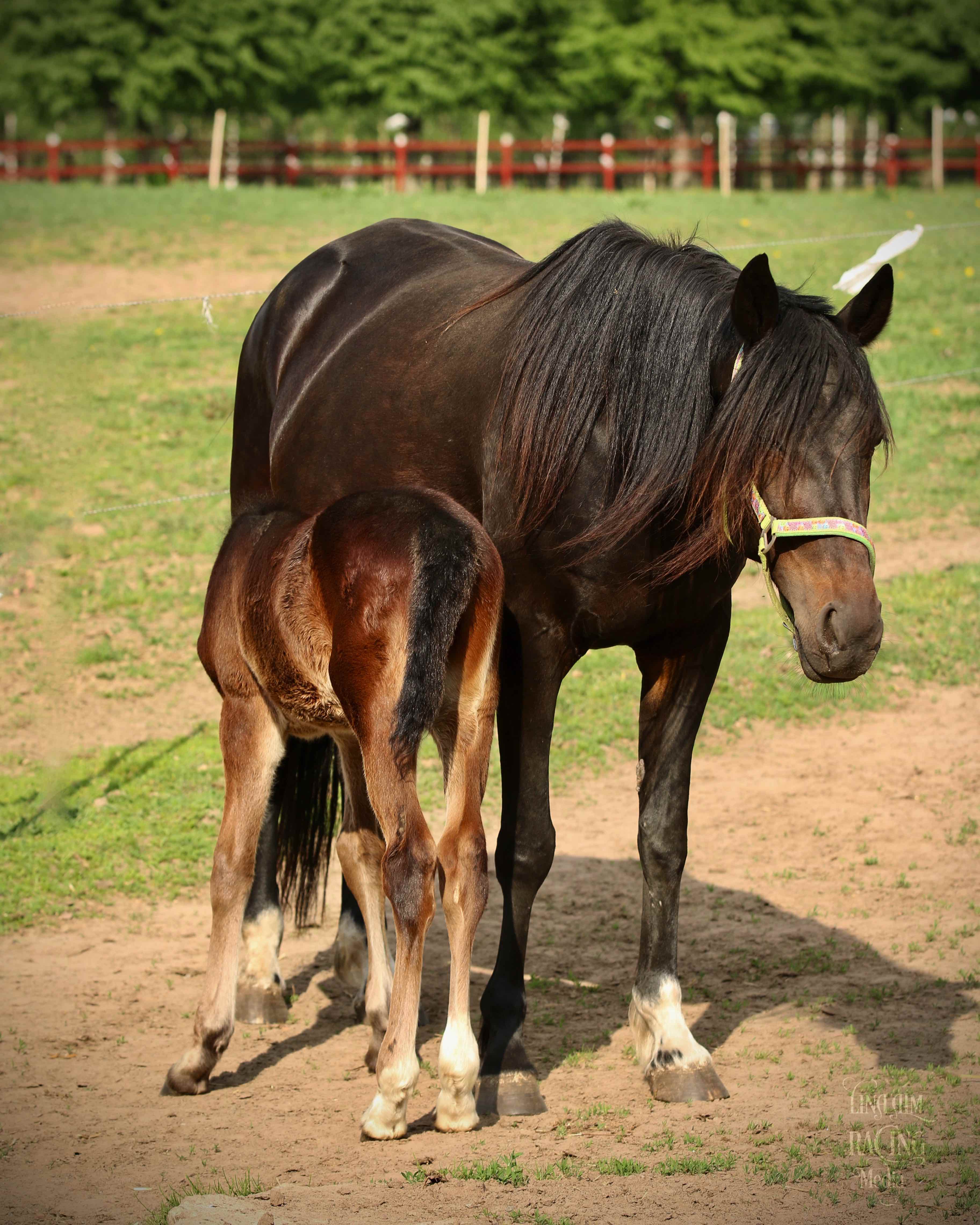 Blue Martini Ås
Barren 2021
Facts
Record
*12,5k 10,4ak 12,4am *12,2aak
Biography
Blue Martini Ås almost never had a bad day on the racetrack. From 68 starts she had the result 10-14-15 and took the record 1.10,4 with almost 1,5 MSEK made in purses.
She is a daughter of Allstar Hall, who is a brother to Conway, Andover and Angus Hall.
Her dam True Blue Victory raced very succesful with Berndt Lindstedt. As a two year old she finished second in The Merrie Annabelle. Her total earnings exceed $600,000.
2nd dam Decent Exposure is also the grandmother to six Gran Premio winners in Italy. The dam to all these winners is Garden Variety known as one of the most succesful broodmares in Italy. Her production includes; Mind Wise As 1.13,4/€321.922, In Wise As 1.12,3/€246.288, Swan Wise As 1.11,4/€140.118 and UET Wise As 1.12,3/€130.124. Her 2016 offspring by Ready Cash was sold in Milan last year for €260.000.
Pedigree
allstar hall
like a prayer
lindy lane
meadowmiss hanover
amour angus
magna force
kenwood scamper
true blue victory
valley victory
baltic speed
valley victoria
decent exposure
royal prestige
impressive style
| Year | Starts | Results | Earnings |
| --- | --- | --- | --- |
| Life | 49 | 5-11-4 | 1,030,921 |
| 2021 | 0 | 0-0-0 | 0 |
| 2016 | 15 | 1-3-2 | 265,500 |
| 2015 | 19 | 0-6-0 | 330,350 |
| 2014 | 10 | 2-1-2 | 325,200 |
| 2013 | 5 | 2-1-0 | 109,871 |
| Track | Date-Race | Race type | Dist | Res. | Time | Driver | Trainer | Earnings |
| --- | --- | --- | --- | --- | --- | --- | --- | --- |
| S | 161226-8 | R | 2140 | 0 | 14,4a | Haugstad Kenneth | Walmann Roger | 0 |
| S | 161130-7 | | 2140 | d | 8ag | Haugstad Kenneth | Walmann Roger | 0 |
| B | 161112-10 | R | 2140 | 4 | 14,0a | Haugstad Kenneth | Walmann Roger | 16,000 |
| Ro | 161022-5 | R | 2140 | 6 | 13,5a | Haugstad Kenneth | Walmann Roger | 7,000 |
| S | 160924-6 | R | 1640 | 0 | 11,1a | Jansson Torbjörn | Walmann Roger | 0 |
| Bj | 160612-9 | | 1609 | 0 | 11,8a | Kihlström Örjan | Walmann Roger | 0 |
| S | 160518-9 | | 2140 | 2 | 12,5a | Kihlström Örjan | Walmann Roger | 30,000 |
| Ö | 160507-9 | R | 2100 | 2 | 12,7a | Kihlström Örjan | Walmann Roger | 50,000 |
| Ax | 160409-7 | R | 1640 | 3 | 12,1a | Kihlström Örjan | Walmann Roger | 31,000 |
| S | 160402-5 | R | 1640 | 3 | 11,5a | Kihlström Örjan | Walmann Roger | 50,000 |
| S | 160309-8 | | 1640 | d | 12ag | Haugstad Kenneth | Walmann Roger | 0 |
| Hd | 160227-7 | R | 2140 | 5 | 13,8a | Kihlström Örjan | Walmann Roger | 6,500 |
| S | 160131-11 | R | 1660 | 0 | 44,0g | Haugstad Kenneth | Walmann Roger | 0 |
| S | 160120-7 | | 2140 | 1 | 14,3a | Kihlström Örjan | Walmann Roger | 60,000 |
| E | 160110-4 | | 1640 | 2 | 14,5a | Haugstad Kenneth | Walmann Roger | 15,000 |
| S | 151226-5 | R | 2140 | 2 | 13,3a | Kihlström Örjan | Walmann Roger | 100,000 |
| Å | 151212-5 | R | 2140 | d | uag | Kihlström Örjan | Walmann Roger | 0 |
| S | 151125-8 | | 2140 | 2 | 16,9a | Haugstad Kenneth | Walmann Roger | 35,500 |
| S | 151111-7 | | 1640 | 2 | 12,7a | Kihlström Örjan | Walmann Roger | 35,500 |
| E | 151027-8 | | 1640 | 5 | 12,0a | Haugstad Kenneth | Walmann Roger | 4,300 |
| S | 151014-2 | | 1640 | 5 | 12,0a | Kihlström Örjan | Walmann Roger | 7,600 |
| S | 150926-5 | R | 1640 | 5 | 12,1a | Haugstad Kenneth | Walmann Roger | 17,000 |
| Å | 150909-8 | | 1640 | 0 | 11,5a | Haugstad Kenneth | Walmann Roger | 0 |
| S | 150902-3 | | 1640 | 5 | 11,8a | Kihlström Örjan | Walmann Roger | 5,700 |
| Ax | 150719-7 | R | 1640 | d | uag | Haugstad Kenneth | Walmann Roger | 0 |
| Hd | 150704-2 | | 1609 | 4 | 10,4a | Haugstad Kenneth | Walmann Roger | 13,500 |
| F | 150627-2 | | 2140 | 2 | 12,8a | Haugstad Kenneth | Walmann Roger | 22,500 |
| S | 150520-4 | | 1640 | d | 11ag | Haugstad Kenneth | Walmann Roger | 0 |
| Å | 150425-7 | R | 2140 | 6 | 12,4a | Haugstad Kenneth | Walmann Roger | 11,000 |
| S | 150415-6 | | 2140 | 2 | 13,2a | Haugstad Kenneth | Walmann Roger | 35,500 |
| F | 150403-5 | R | 2140 | 0 | 13,5a | Haugstad Kenneth | Walmann Roger | 0 |
| Ö | 150316-10 | | 2100 | 4 | 14,3a | Haugstad Kenneth | Walmann Roger | 6,750 |
| S | 150304-9 | | 2140 | 2 | 13,1a | Haugstad Kenneth | Walmann Roger | 35,500 |
| S | 150218-10 | | 1640 | d | 11ag | Haugstad Kenneth | Walmann Roger | 0 |
| S | 140928-11 | R | 2140 | 0 | 14,6a | Haugstad Kenneth | Walmann Roger | 0 |
| Å | 140816-8 | R | 2140 | 0 | 17,2ag | Haugstad Kenneth | Walmann Roger | 0 |
| Bs | 140727-7 | | 2140 | 5 | 14,2a | Haugstad Kenneth | Walmann Roger | 7,000 |
| Hd | 140705-7 | R | 1609 | 3 | 11,2a | Kihlström Örjan | Walmann Roger | 138,750 |
| Hd | 140623-5 | | 1609 | 1 | 13,0a | Kihlström Örjan | Walmann Roger | 50,000 |
| Bs | 140613-7 | | 2140 | 2 | 13,9a | Haugstad Kenneth | Walmann Roger | 16,300 |
| Å | 140528-4 | R | 2140 | 6 | 13,1a | Haugstad Kenneth | Walmann Roger | 45,150 |
| Å | 140515-2 | | 2140 | 3 | 14,3a | Kihlström Örjan | Walmann Roger | 20,000 |
| S | 140430-4 | | 2140 | 4 | 14,2a | Jansson Torbjörn | Walmann Roger | 13,000 |
| G | 140419-7 | | 1660 | 1 | 12,5 | Kihlström Örjan | Walmann Roger | 35,000 |
| Us | 131109-9 | | 1609 | 2 | 12,5a | Hensley Ed F | Lorentzon Anette | 36,892 |
| Us | 131030-10 | | 1609 | 4 | 12,8a | Hensley Ed F | Lorentzon Anette | 5,903 |
| Us | 131022-13 | | 1609 | 1 | 13,1a | Hensley Ed F | Lorentzon Anette | 36,892 |
| Us | 131012-7 | | 1609 | 0 | 19,3ag | Hensley Ed F | Lorentzon Anette | 0 |
| Us | 131004-11 | | 1609 | 1 | 12,6a | Hensley Ed F | Lorentzon Anette | 30,184 |
| Born | Name | Sex | Start | Results | Record | Auto | Earnings |
| --- | --- | --- | --- | --- | --- | --- | --- |
| 2018 | Alabama Slammer | Hingst | 0 | 0-0-0 | | | |
| 2020 | Weekend Vibe | Hingst | 0 | 0-0-0 | | | |